TiPunch. Down in Martinique and Guadeloupe, rhum agricole country, the preferred way of absorbing the daily ration is in a Ti' Punch — ti' being how you say petit in the Creole they speak down there. The Ti' Punch is Martinique's national cocktail, and the island's answer to America's Old-Fashioned. Get Ti-Punch Recipe from Food Network.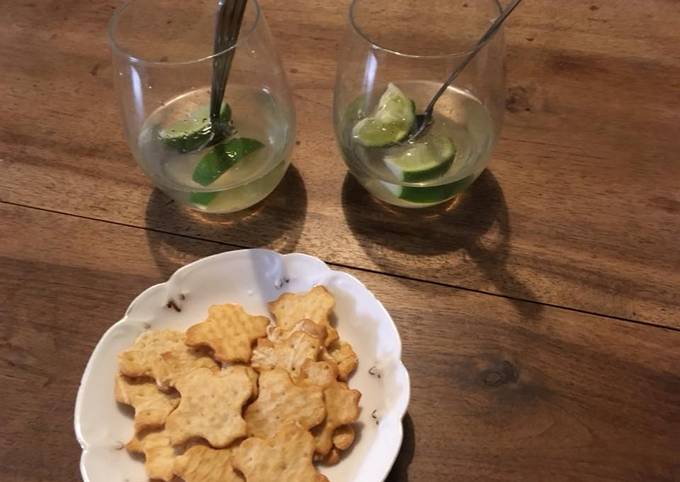 It is very similar to the daiquiri, which is usually identified with Cuba, and the caipirinha, identified with Brazil. Ti' punch or ti' ponch is a cocktail from the West Indies, made from rum, lime and cane sugar. This is a Caribbean classic that is consumed as an aperitif to accompany accras and Creole blood sausage, both emblems of West Indian cuisine. You can cook TiPunch using 3 ingredients and 6 steps. Here is how you achieve that.
Ingredients of TiPunch
You need of Rhum Agricole blanc.
You need 2 cuillères à café of cassonade.
Prepare 1/2 of citron vert.
The distinctiveness of this drink is based on the choice of limes as well as the quality of white rum used to make it. Arguably the most popular drink throughout all of the French West Indies, the ti' punch (short for petite punch) is a triumph of simplicity. Combining just three ingredients (white rhum agricole, a little sweet in the form of sugar or cane syrup, and lime) with a joie de vivre, it's an essential taste of the island of Martinique. Made with a simple trio of ingredients—a quick squeeze of lime juice, a splash of sugar syrup and a dram of grassy rhum agricole—the Ti Punch is the national drink of Martinique.
TiPunch instructions
Versez 1 cuillère à café de cassonade dans chaque verre.
Coupez le citron en quartier et pressez en 2 dans chaque verre et laissez les quartiers dans les verres.
Versez le rhum à votre convenance.
Mélangez pour dissoudre le sucre et mélanger les arômes.
Et dégustez en bonne compagnie surtout !.
Ajoutez des glaçons si vous le cœur vous dit !.
Squeeze a lime wedge into the glass. You can add ice cubes, but my friend Martine, as all Caribbeans, drinks it without ice. Squeeze a lime wheel into a chilled rocks glass. Add the remaining ingredients, and top with ice if desired. Then SQUEEZE the lime disc between finger and thumb before dropping into the drink.